There's been a lot of controversy around Huawei of late – trade sanctions with the US; source of tension in the Five Eyes alliance; exporting video surveillance systems to the world. In this post, we'll focus on the impact and consequences on the Five Eyes countries. But first, some background.
Huawei: Huawei is perhaps the most successful and strategic Chinese technology company with close to 200,000 employees, $100B in revenues and customers in 170 countries. Founded in 1987, the company is a global leader in smartphones, Internet infrastructure, 5G, and video surveillance. Many would argue that its success is built on a foundation of stolen intellectual property from Cisco, Motorola, and T-Mobile among others, and below market pricing subsidized by the Chinese government and banks. In May 2019, the U.S. Department of Commerce added Huawei to a list of firms banned from purchasing equipment from U.S. businesses.
Five Eyes: Five Eyes is an intelligence alliance among five Anglophone countries that was forged in World War II. The member countries are Australia (AU), Canada (CA), New Zealand (NZ), the United Kingdom (GB), and the United States (US). The allies share all intelligence types – SIGINT, HUMINT, GEOINT, OSINT, and Cyber.
Five Eyes concerns with Huawei center on Huawei's ability to: 1) build backdoors into their products to allow electronic spying, and 2) monitor, inspect, redirect and disrupt communications that transit their networks. As Huawei has ties to the Chinese military and is subject to Chinese control, Huawei effectively provides a wiretap on Five Eyes communications.
There are differences of opinion and even disarray, among the Five Eyes countries over policy with Huawei on 5G networks. The US, Australia, and New Zealand have all banned the use of Huawei on national security grounds. However, Canada has postponed its decision, while the UK is considering allowing Huawei's use on 'less sensitive networks'.
Data Illumination: To help us understand the potential impact on Five Eyes member networks, consider the metrics and data listed in Table 1. Population data is sourced from Wikipedia. ASN (Autonomous System Number or ISP) data is sourced from the Hurricane Electric World Report. The last three rows are all derived from Shodan.io, a network intelligence service providing measurements on open ports and services on hosts with public IPv4 addresses. Row 4 shows all open ports by country. Row 5 shows all Huawei devices with open ports, including both SOHO (small office home) devices and enterprise or carrier devices. Row 6 is an example of one Enterprise or carrier-grade product.
So, what jumps out? First, the Five Eye countries represent 55% of the total IPv4 ASNs worldwide (67,477 as of 11-29-2109 per Hurricane Electric). What's not shown, is that none of the Five Eyes countries are in Huawei's top 5 countries (China, Thailand, Mexico, Brazil, Hong Kong). This may reflect both a lack of trust by the Five Eyes and the price sensitivity in some markets. The data on New Zealand stand out, as New Zealand has the smallest network in terms of ASN count, but the largest Huawei penetration. This may reflect China's foreign investment and trade strategy with New Zealand, which includes a commitment of NZ$400M from 2017-2022.

Potential Impact and Consequence: Given the relatively low penetration rates of Huawei in the Five Eye markets, the Five Eye countries would not be hindered by banning Huawei, as there are acceptable alternative 5G sources – Nokia and Ericsson.
Much has been written about US officials and even Senators pressuring the UK and Canada to join the ban. But what might this pressure look like? Here's a hypothetical. British Telecom (BT Group) has been using Huawei gear for 15 years. Is it possible that the US may try to compel US company networks in critical infrastructure sectors to stop using BT networks from using Huawei routers for transit or peering? Perhaps. A review of the 252 networks downstream from BT AS2856 shows many leading companies in defense, oil, and gas, financial services and technology sectors. Similarly, in Canada TELUS and BCE Bell Canada, which also use Huawei, could be encouraged or compelled to switch less they lose transit business from US companies.
Disinformation: US adversaries are already exploiting the controversy to drive a wedge between the US and its allies. Screen-captures in Table 2 from the EU EUvsDisinfo tool tracking Russian disinformation shows that Russia is already exploiting this tension. One post from the Russian source RT plays up 'threats of consequences' from US Secretary of State Mike Pompeo to US EU allies over the use of Huawei. And another targets New Zealand, blaming the US for the New Zealand Christchurch terror attacks.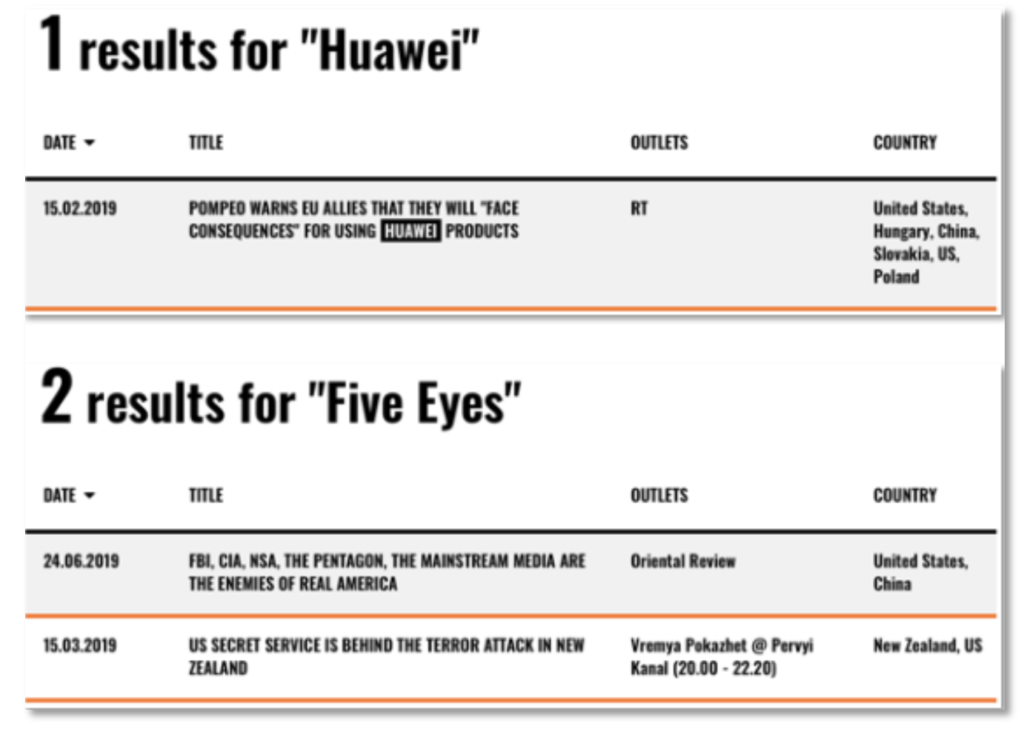 Trade or National Security? Former Australian Prime Minister Kevin Rudd acknowledges the tension among Five Eyes members and attributes the tension to lack of clarity on whether the issue is being driven by trade or national security concerns. A recent interview with former US NATO Ambassador Nicholas Burns suggests a growing resistance to Huawei among NATO members. Perhaps a better understanding of the inherent weakness in Internet Mechanics and Governance would help make the case that national security concerns are real.